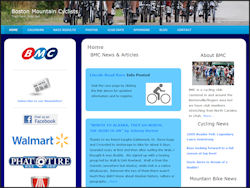 The Boston Mountain Cyclists is a club comprised of riders of all levels of fitness ranging from riders that take a leisurely stroll once a week all the way to riders who avidly race at bicycle events around the country. The club is sponsored by Wal-Mart and PowerBar, but you do not have to work for either company to be a part of the club.
The fitness / social group brings riders of all fitness levels, regardless of interest in racing, together with others that share similar fitness goals. The racing group brings riders of common interest together to train hard and learn from each other to achieve the ultimate goal of winning race events that are held around the country throughout the year.
The club has a team uniform (jerseys, shorts, etc.) that you can purchase to help you look both sharp and support the club. If you think you would like to become involved with a club that has a common goal to bring bicycle riders from Northwest Arkansas together, then you have found the starting point.