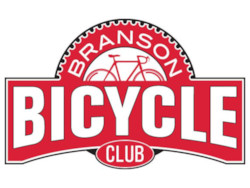 The Branson Bicycle Club promotes safe cycling practices, physical achievement, and the social benefits of group cycling in the Branson, Missouri area. Their club provides various rides throughout the week, including rides for beginners (usually 4-6 miles), intermediate riders (15 miles), and intermediate/advanced riders (approx. 24 miles). Their rides are very unique in terrain and beauty.
The goal of the cycling club is to provide a means to encourage the principles of teamwork, discipline, dedication, and sportsmanship. Participation in the club is open to everyone. The club is sustained by the efforts of volunteers who display an extraordinary amount of commitment and hard work, ensuring that the club is an asset to the community.
The Branson Bicycle Club is a non-profit organization that appreciates the generous support of the community, local merchants, and civic organizations.