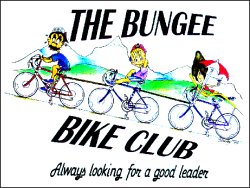 As you can tell by the drawing this is not one of those serious bike clubs. Members of the Bungee Bike Club would rather ride and have fun with a friendly group than draft off someone for 100 miles. The goal is to train and ride as a team for the September MS BIKE TOUR.
Everyone is welcome to join. The club has slow and fast riders and will try to match you up with other riders with your same ability. Weekend rides typically start in Overland Park and vary in distance and degree of difficulty. The ride schedule and basic route information can be found on their web site.
The Bungee Bike Club is based in Overland Park, KS.