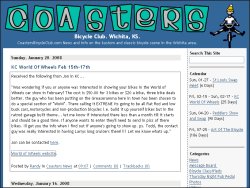 Coasters Bicycle Club is an informal group of kustom and antique bicycle enthusiasts in the Wichita, Kansas area. The group plans and hosts bicycle-related events and rides, and exchanges news and info on the kustom and classic bicycle scene in the Wichita area.
Their web site offers local news, a discussion board, classified ads, a photo gallery, videos, and much more.
Coasters Bicycle Club organizes a number of events throughout the year, including the Midwest Bicycle Fest.