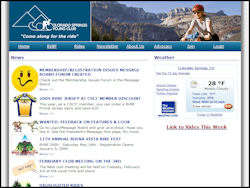 The Colorado Springs Cycling Club is a recreational bicycling club which promotes safe and fun cycling for all ages and abilities. Whatever your level of proficiency, from beginner to experienced rider, the club offers enthusiastic cyclist many ways to get more out of riding.
During the summer, ride with CSCC on social and serious rides including Dinner rides, Road Training Rides and Community Trail System Rides. The club also offers regular weekly rides, plus special events such as the New Year's Day Frozen Water Bottle Ride, Raw Easter Egg Ride, Tour de Turkey and Progressive Dinner Ride.
On the third weekend of May, the club sponsors the Buena Vista Bike Fest, a one-day bicycling festival that provides outstanding views of Colorado's highest mountain peaks and the crystal clear water of the Arkansas River. This weekend provides many options from a flat to hilly to a full-blown century ride.