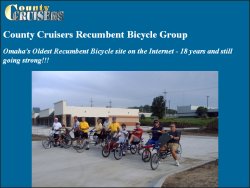 The County Cruisers is a group of recumbent bicyclists from Omaha, Nebraska, founded nearly two decades ago by Nebraska artist Armand Gibbons. The Cruisers ride the second Saturday of every month. No dues, no meetings, just a nice monthly ride March, April, May, September, October and November at 9:00 a.m. or June, July and August at 8:00 a.m.
Do you ride a recumbent or know someone who does? It would be great if everyone in Omaha on a recumbent could be a "Cruiser," share information, and ride together. There can be more rides than once a month ... It really turns heads when a group are out riding!
The County Cruisers web site seems to have disappeared, so presumably the club has folded...
Sorry, but this listing is not currently active;
info shown is the last known data...