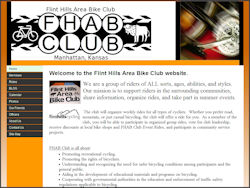 The Flint Hills Area Bike Club serves the Manhattan, Kansas area as social club that promotes all forms of recreational cycling, the rights of cyclists, improves the community through various service projects, and furthers all phases of bicycling within the Flint Hills. The club serves the communities of Manhattan, Fort Riley, St. George, Wamego, and the rest of the Flint Hills.
The club organizes weekly rides for all types of cyclists. Whether you prefer road, mountain, or just casual bicycling, the club will offer a ride for you. As a member of the club, you will be able to participate in organized group rides, vote for club leadership, receive discounts at local bike shops and FHAB Club Event Rides, and participate in community service projects.
Have some fun, and get some exercise!