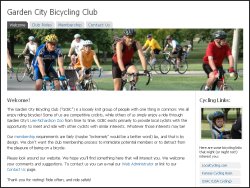 The Garden City Bicycling Club (GCBC) is a loosely-knit group of people with one thing in common: They all enjoy riding bicycles in Garden City, Kansas!
Some are competitive cyclists, while others simply enjoy a ride through Garden City's Lee Richardson Zoo from time to time. GCBC exists primarily to provide local cyclists with the opportunity to meet and ride with other cyclists with similar interests. Whatever those interests may be!
GCBC maintains three local club rides, which are a good place to connect with other riders of similar fitness levels and interests.