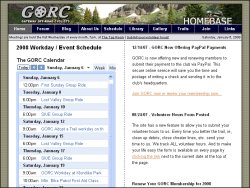 Gateway Off-Road Cyclists (GORC) is dedicated to advocacy, design, construction, and maintenance of multi-use trails. They are the St. Louis area's only official International Mountain Bicycle Association (IMBA) affiliate club. As a club, they also have social activities such as group rides, trips, and events. A newsletter is published and contains articles on travel, workdays, advocacy, and equipment.
GORC was founded in 1998 by St. Charles area mountain bikers to help facilitate design and construction of a bicycle/hiking trail in a new County Park, and the club has grown to cover the entire St. Louis metropolitan area in both Missouri and Illinois.
GORC is your single point resource for everything from simple assistance with trail maintenance, to 100% design and construction of new natural surface trails. GORC has established official relationships with St. Louis County Parks, St. Charles County Parks, Missouri State Parks, Missouri Conservation Department, and the US Forest Service. GORC functions include Trail Design, Trail Construction, Trail Maintenance, Technical Consulting, Leading Volunteer Workdays, and Providing Volunteers for Workdays.