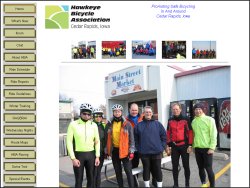 The Hawkeye Bicycle Association (HBA) of Cedar Rapids, Iowa offers an opportunity for bicycle enthusiasts of all ages and experience levels to participate in group rides and social events focused on cycling. The HBA promotes bicycling safety and advocates bicycle friendly communities, roads and trails, as well as bicyclist rights.
HBA sponsors organized rides for members and guests. Club rides are scheduled on Saturday and Sunday mornings and Wednesday evenings from April through October. Shorter, slower "Leisure Rides" are scheduled periodically. One special event ride is scheduled each month from November through March.
HBA's annual "Swine Trek" ride is open to the public and is supported by HBA volunteers. This ride offers four distances from ten miles to a full century (100 mile) ride. The HBA also sponsors bicycle race events from April through August each year at the Hawkeye Downs "Oval" in Cedar Rapids.