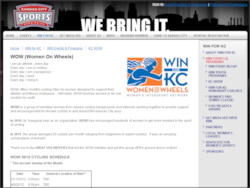 Kansas City Women on Wheels (KC WOW) is a volunteer organization whose goal is to improve women's lives by encouraging participation in cycling. KC WOW aims to be a one-stop shop for female bicyclists in and around the Kansas City area.
KC WOW organizes the annual KC WOW Bicycle Festival, a comprehensive celebration of cycling within the Greater Kansas City region. With exhibitors, rides, and demos, the festival will be fun for all ages.
The Kansas City Women on Wheels web site seems to have disappeared, so presumably the organization has disbanded...
Sorry, but this listing is not currently active;
info shown is the last known data...