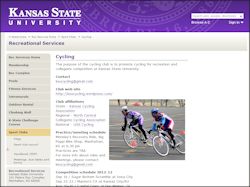 The KSU Cycling Team is made up of cyclists ranging from beginners to licensed competitive racers, leisure riders, and of course road, mountain, and cyclocross riders. The goals of the KSU cycling team are to introduce interested riders to the sport of cycling and promote a healthy lifestyle through fun and physical fitness as well as student involvement.
KSU competes in collegiate events against other universities and colleges within the North Central Collegiate Cycling Conference (NCCCC), one of ten regional divisions of the National Collegiate Cycling Association (NCCA) through USA Cycling.
Currently there are no dues to join the team and interested KSU students are encouraged to come to a team meeting and go for a ride to see what the team is all about.