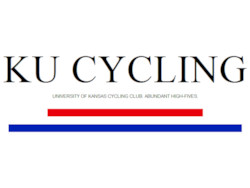 KU Cycling is a group of students, both graduate and undergraduate with various majors, who enjoy riding a bicycle in one form or another. Beginner, Sport, or Expert, KU Cycling has almost every level of every discipline covered whether you ride road, mountain, or cyclocross. KU Cycling is active in the national cycling arena sending team members to Collegiate National Road, Mountain, and Cyclocross events.
While there are a number of members who are competitive, it is not expected nor required. KU Cycling is a member of the Sport Club program, so it's perfectly acceptable to be a strictly recreational rider.
The Kansas University Cycling Team organizes the annual Jayhawk Cycling Classic race weekend.