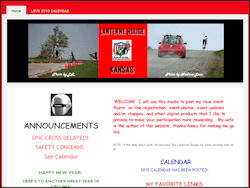 Lanterne Rouge Kansas is a Leavenworth, KS bicycle club and race team run by Roger Harrison, a bicycle racer, race promoter, announcer and photographer, and a fixture at sporting events throughout the region, loved and respected for his tireless enthusiasm and spirit of volunteerism.
Lanterne Rouge Kansas is his web site, dedicated to his passions: Cycling in Kansas and Missouri, Helping local people enjoy family sports, Promotion of women racing in the four-state area, and Volunteering in the Kansas area.
I will use this media to post my race event flyers, on-line registration, event photos, event updates and/or changes, and other digital products that I like to provide to make your participation more rewarding.
You can view Roger's photos on his Flickr site.