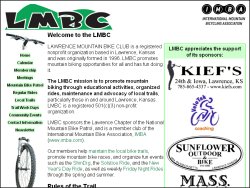 The Lawrence Mountain Bike Club (LMBC) is an organization dedicated to promoting mountain biking in and around Lawrence, Kansas. LMBC promotes mountain biking opportunities for all and has fun doing it.
The LMBC mission is to promote mountain biking through educational activities, organized rides, maintenance and advocacy of local trails. LMBC sponsors the Lawrence Chapter of the National Mountain Bike Patrol, and is a member club of the International Mountain Bike Association (IMBA).
LMBC members help maintain the local bike trails, promote mountain bike races, and organize fun events such as the ShinDig, the Solstice Ride, and the New Year's Day Ride, as well as weekly Friday Night Rides through the spring and summer. These rides are open to all skill levels.