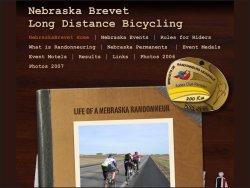 Nebraska Brevet is the official site for information about randonneuring in Nebraska.
The site contains ride rules and regulations, as well as a complete schedule of upcoming 200K, 300K, 400K, 600K, and 1000K rides, plus maps and cue sheets.
Randonneuring is long-distance unsupported endurance cycling. This style of riding is non-competitive in nature, and self-sufficiency is paramount. When riders participate in randonneuring events, they are part of a long tradition that goes back to the beginning of the sport of cycling in France and Italy. Friendly camaraderie, not competition, is the hallmark of randonneuring.
Note: The original web site for Nebraska Brevet has disappeared; the link leads to an archive copy.