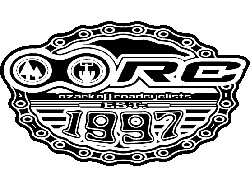 The Ozark Off Road Cyclists is a Fayetteville, Arkansas mountain bike club dedicated to promoting responsible mountain biking, trail maintenance, and preservation of green spaces.
The OORC is the most active trail advocacy group for mountain biking in Arkansas, and have been the driving force in keeping trails open, building new trail systems, and gaining access to existing and proposed trails.
Club members ride in some of the most beautiful places in Arkansas. Every month the OORC leads a ride at a different trail. Some of their favorite destinations include Syllamo Trail System, Hobbs State Park Conservation Area, Lake Leatherwood, and the Buffalo Headwaters. We also lead rides in the Ouachitas, Arkansas River Valley, southern Missouri, and western Oklahoma.
The club also promotes three of Northwest Arkansas' favorite events: The Park to Park Ride, Ozark Headwaters Challenge, and the Eureka Springs Fat Tire Festival.