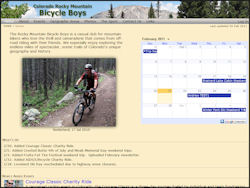 The Rocky Mountain Bicycle Boys is an informal group of people who are enthusiastic about the sport of mountain biking. Members tend to favor challenging single track trails, especially those in Colorado's high country.
The group sponsors frequent weekend and holiday trips throughout the riding season, which runs from April through October. Several multi-day trips are scheduled each year at locations such as Moab, Fruita, Crested Butte, Steamboat Springs, Winter Park, Vail, Durango and Telluride. Moreover, there are frequent day rides on trails in the foothills near Denver.
Most of those belonging to the Bicycle Boys are accomplished back country riders, and the rides we engage in are both physically challenging and technically demanding. That said, outings are planned by club members, who are free to pick the locale and terrain they wish to ride. Everyone in the group started as a neophyte, and the club encourages those new to mountain biking to do rides they are comfortable with and gradually acquire the skill and endurance to become more proficient riders.