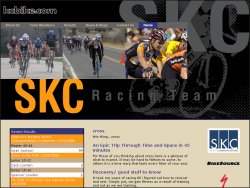 The SKC Racing Team is a Kansas City-based and sponsored organization dedicated to improving the competitive cycling community through local racer and team development. Their teams provide opportunities to new and aspiring competitive cyclists of all ages and genders, while enhancing the communities in which they reside.
SKC Racing provides a team environment which allows members to enjoy the sport of bike racing and build bike racing skills/knowledge to maximize potential. SKC Racing includes both members who are new to racing as well as members with extensive racing experience. SKC Racing also promotes a highly competitive juniors team.
Sorry, but this listing is not currently active;
info shown is the last known data...