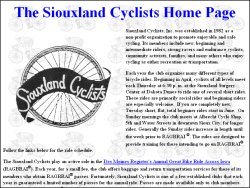 Siouxland Cyclists is a bicycle club in Sioux City, Iowa that promotes enjoyable and safe cycling. Its members include new, beginning and intermediate riders, strong racers and endurance cyclists, community activists, families, and many others who enjoy cycling as either recreation or transportation.
Each year the club organizes many different types of bicycle rides, including beginner rides, social rides, and longer training rides leading up to the big event of the year: RAGBRAI.
The Siouxland Cyclists play an active role in RAGBRAI, and is one of a few established clubs that each year is guaranteed a limited number of passes for the annual ride. Each year, for a small fee, the club offers baggage and return transportation services for its members who ride RAGBRAI.
Club members also work to promote safety for family and beginning cyclists. The club also actively promotes recreational trails and works with officials at Stone State Park to promote safety and non-invasive mountain biking.