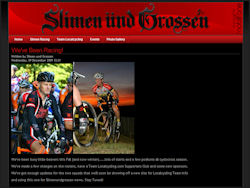 The athletes on our team span a wide variety of ages, race skills and accomplishments. Team members race actively in Kansas, Missouri, Iowa and Nebraska, as well as taking part in USCF National Championship and UCI World Masters Championship events. In addition to racing, the team is active in community organizations as well as cycling advocacy.
The name Slimen und Grossen is a nonsensical phrase coined to playfully suggest the true nature of cyclocross racing, along with its Belgian origins. No matter where you live, or work, or play in the Kansas City area, you're likely to see a cyclist in the distinctive Red, Yellow and Black team colors.
Note: The web site has disappeared, so apparently this club has disbanded...
Sorry, but this listing is not currently active;
info shown is the last known data...