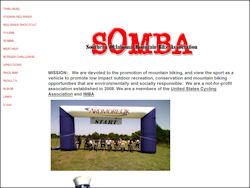 The Southern Oklahoma Mountain Bike Association (SOMBA) is a not-for-profit organization based in Ardmore, Oklahoma. SOMBA helps maintain trails and grow the sport of mountain biking in Southern Oklahoma.
With scenic rolling country roads, great trails, lake campgrounds, picnic areas, and great area lodging, one would be hard-pressed to find a more versatile area to ride and enjoy the outdoors. Load up your bikes and come see for yourself.
SOMBA hosts the annual Red River Shootout cross country mountain bike race at Lake Murray State Park in Ardmore.
Note: The original web site for the Southern Oklahoma Mountain Bike Association (http://redrivershootoutmtb.com/somba.html) has disappeared; the link leads to an archive copy.