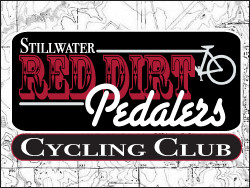 The Stillwater Red Dirt Pedalers Bicycle Club serves recreational cyclists in north-central Oklahoma. Though most social events of the club involve road riding, the Red Dirt Pedalers is committed to encouraging bicycling of all kinds and by riders of all ages and fitness levels.
The Red Dirt Pedalers is a sanctioned club with the U. S. Cycling Federation (USCF) and the International Mountain Bicycling Association (IMBA).
The Red Dirt Pedalers hosts a number of cycling events during the year, including the Chili-Bike Lake McMurtry Challenge in February, and the Tour of Payne in July for road cyclists.