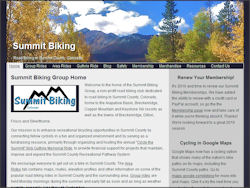 The Summit Biking Group is a non-profit club dedicated to road biking in Summit County, Colorado, home to the Arapahoe Basin, Breckenridge, Copper Mountain and Keystone Ski resorts as well as the towns of Breckenridge, Dillon, Frisco and Silverthorne.
Their mission is to enhance recreational bicycling opportunities in Summit County by connecting fellow cyclists in a fun and organized environment and by serving as a fundraising resource, primarily through organizing and hosting the annual "Circle the Summit" Bob Guthrie Memorial Ride, to provide financial support for projects that maintain, improve and expand the Summit County Recreational Pathway System.
The group's primary emphasis is on non-competitive road biking; however, many of their members also are active mountain bikers.