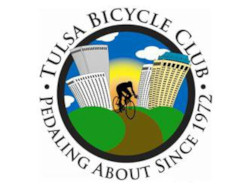 The Tulsa Bicycle Club, (TBC) sponsors a year round program of rides and events. Our rides vary in length from 5 to 125 miles and in difficulty from very easy social rides to hard and fast tours through and around Oklahoma's green country. The Tulsa Bicycle Club will leave no one out.
TBC is involved in helping to develop bike paths, bike lanes and educate the public and our membership about bicycle safety. The club also actively participates in the design and organization for Oklahoma's state wide bicycle ride called FreeWheel. TBC FreeWheel Training Rides are held from March through May each year to help prepare for this cross-state ride.
TBC has over 350 members willing to share their cycling knowledge regarding safety, ride routes, touring, as well as, bicycle equipment selection, maintenance and repair. If you enjoy bicycle riding, come out to one of the club rides and see how much fun it is!