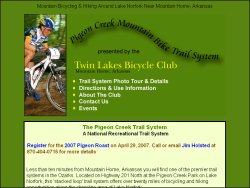 The Twin Lakes Bicycle Club of Mountain Home, Arkansas offers fun and fitness for cyclists of all ages, skill levels and riding interests. Members include families with children, seniors, and racers, all enjoying road and mountain biking in the beautiful Ozarks of norther Arkansas.
The Twin Lakes Bicycle Club is committed to the development and improvement of bicycle-related issues such as trail access, rider education, driver education, rights to the roads, youth encouragement, and any issues which will make the Twin Lakes Area more bicycle friendly.
Club rides are varied in length and intensity, with routes ranging from as little as 4 miles, to all-day trips. Take the kids along, or just get away from it all. Take a cool, easy ride along the White River. Pull a 70-mile road ride over Push Mountain. Charge up the Light System and go night riding on some of the state's premier single-track at Pigeon Creek.
Each spring, the club hosts the Pigeon Roast, one of the premier races on the Arkansas Mountain Bike Championship Series, drawing cyclists from four states.