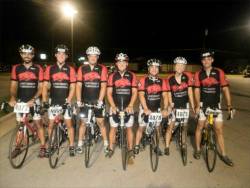 The University of Arkansas Cycling Club promotes students to live a healthy lifestyle by getting on their bikes and riding around the beautiful town of Fayetteville while representing their school. Made up of over 40 student and faculty members, Arkansas Cycling is a growing organization within the University of Arkansas in Fayetteville.
The club has weekly group rides, appears in local tours around Arkansas and competes collegiately in the SCCCC (South Central Collegiate Cycling Conference).
The club's mission is promote cycling to students, faculty, and staff, to represent the University of Arkansas in a positive manner through physically active pursuits, to provide opportunities for cycling education, safety, and organized cycling events, and to encourage the University of Arkansas community to remain health conscious through active lifestyles.