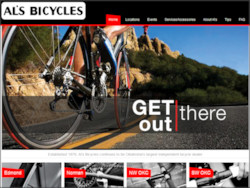 In business for over 25 years, Al's Bicycles continues to be Oklahoma's largest independent bicycle dealer, with four locations in the Oklahoma City area. They offer friendly and reliable customer service and the quality brands you expect from a professional bicycle retailer.
Catering to all levels of bike enthusiasts, they carry a large variety of bicycles, parts, and accessories for all types of riders. Their professional staff will help you find the bike that is right for you. Al's Bicycles also has a full service department ready to take care of your maintenance needs.
Al's Bicycles stocks brands such as Diamondback, Felt, Gary Fisher, Lemond, Mirraco, Raleigh, and Trek.
Al's Bicycles - Edmond
2624 S. Broadway Ct.
Edmond, OK 73013
405-341-4331


Map This Location…
Al's Bicycles - Norman
562 W. Main St.
Norman, OK 73069
405-364-8787


Map This Location…
Al's Bicycles - NW OKC
7930 N. MacArthur Blvd.
Oklahoma City, OK 73132
405-728-7100


Map This Location…
Al's Bicycles - SW OKC
8900 S. Walker
Oklahoma City, OK 73139
405-632-0483


Map This Location…