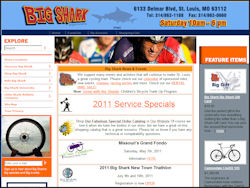 Big Shark Bicycle Company is a St. Louis, Missouri bike shop established with a simple goal in mind: provide great products, fantastic service, and a refreshing place to pursue all the different facets of cycling.
From racing to touring, from kid's bikes to a bike that the grandparents would be proud to own, Big Shark has them all. They have got the right bike for you, and their knowledgeable staff can help steer you to that perfect bike. Big Shark has been honored with Bicycle Retailer's Top 100 award, are honored to be among the nations top 100 bicycle dealers.
The store also actively promotes cycling advocacy and the St. Louis cycling "scene." They proudly sponsor USCF and NORBA races each year, as well as assist in a large number of local cycling events.
Big Shark Bicycle Company
6133 Delmar Blvd
St. Louis, MO 63112
314-862-1188


Map This Location…