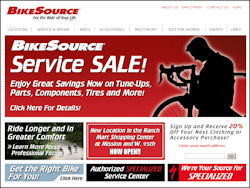 A large bike shop in Overland Park, carrying road and mountain bikes.
BikeSource carries Electra, Giant, Haro, Serotta, Specialized, and Surly bikes, as well as accessories, clothing, racks, and tools. The store also features a large selection of trathalon bikes and gear.
BikeSource is now Erik's Bike - Board - Ski - Overland Park.
BikeSource
11500 W 135th Street
Overland-Park , KS 66221
913-451-1515


Map This Location…
Sorry, but this listing is not currently active;
info shown is the last known data...