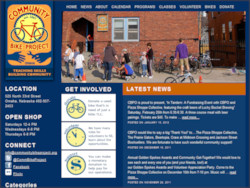 Community Bicycle Shop Omaha is a volunteer-run, non-profit bike shop open to everyone, located in the Gifford Park neighborhood of Omaha, Nebraska. Although neighborhood children were having a great time riding bikes, too often they were missing seats, had flat tires or lacked training wheels. And rarely did the children have proper safety equipment.
Believing that cycling is great for both recreation and transportation, individuals passionate about cycling and improving the community began working to create a space and structure to help members of the Omaha community enjoy cycling safely. They opened in 2007 to offer free workspace to everyone, low-cost reclaimed bike parts to those who need them, and mentoring programs for kids to learn bike mechanics and safety and earn their own bikes.
Community Bicycle Shop Omaha's mission is to create a positive environment, teach bicycle mechanics, build community, and promote safe cycling.
Community Bicycle Shop Omaha
525 North 33rd Street
Omaha, NE 68131
Saturday 12-4pm and Wednesday 6-8pm


Map This Location…