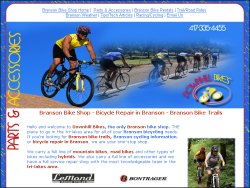 Downhill Bikes is located in Branson, Missouri and is THE place to go in the tri-lakes area for all of your bicycling needs. They carry a full line of mountain bikes, road bikes and other types of bikes including hybrids. Brands include Gary Fisher, Giant, Klein, Lemond, Sun, and Trek. They also carry a full line of accessories and have a full service repair shop with the most knowledgeable team in the tri-lakes area!
Downhill Bikes also offers a variety of rental bikes, including hybrid, road, and mountain bikes. Please call a few days before you plan to rent to make sure we have what you're looking for on hand.
The web site offers information on cycling events in the area, as well as a comprehensive listing of on-road cycling routes in the Branson area, plus mountain bike trails in the vicinity.
Downhill Bikes
116 Flynn Road
Branson, MO 65616
417-335-4455


Map This Location…