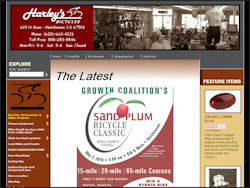 Harley's Bicycles has been serving the bicycle community of Hutchinson, Kansas and surrounding areas since 1922 and is the home of one of the oldest and best-known bicycle stores in the state.
Harley's Bicycles is a full-service specialty retailer with the main focus being on family and recreational cycling. Harley's carries Trek, Electra, Gary Fisher, Giant, GT, LeMond, Mirra, Redline, Schwinn, Specialized, Haro, RANS and Sun bicycles, as well as all the clothing, helmets, and riding gear you need.
Harley's has been recognized as one of the top 100 bicycle dealers in the United States by Bicycle Dealer Showcase magazine for 9 years. Harley's is also active in local cycling activities, sponsoring and participating in many events throughout the year. Harley's Bicycles is devoted to bicyclists in every category and our goal is to help in any way possible to enhance your cycling experience.
Ranked as one of America's Best Bike Shops by the National Bicycle Dealers Association.
Harley's Bicycles
629 North Main
Hutchinson , KS 67501
620-663-4321
888-283-5846 (Toll Free)


Map This Location…