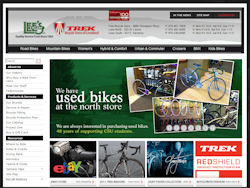 Lee's Cyclery and Fitness was founded in 1963 with the mission of providing excellent quality and service to Fort Collins, Colorado. Today they carry on the tradition with a very customer-focused approach to bikes. Their mission is to help each rider get the most out of his or her bike.
Their service department is equally committed to helping you ride the safest, fastest, most mechanically-sound bike possible. They are focused on ensuring you have the best experience at Lee's whether you are a novice rider or a pro.
Lee's carries bikes from brands such as Cervelo, Co-Motion, Gary Fisher, LeMond, MirraCo. Orbea, Scott, Surly, and Trek.
Lee's Cyclery and Fitness
202 West Laurel
Fort Collins, CO 80521
970-482-6006


Map This Location…