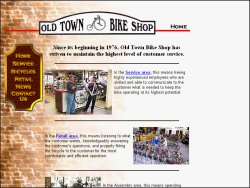 Since its beginning in 1976, Old Town Bike Shop in Colorado Springs, Colorado has striven to maintain the highest level of customer service. Their objective is to do everything possible to try to help you have a pleasurable cycling and shopping experience in hopes of winning your respect and long term business.
Old Town has highly experienced employees who are skilled and are able to communicate and listen to what you want, knowledgeably answering your questions, and properly you to the bicycle for the most comfortable and efficient operation.
Old Town stocks Breezer, Cannondale, Gary Fisher, Giant, Serotta, LeMond, and Maverick bikes. You can also find a great selection of clothing, shoes, helmets, and many other accessories.
Old Town Bike Shop
426 South Tejon Street
Colorado Springs, CO 80903
719-475-8589


Map This Location…