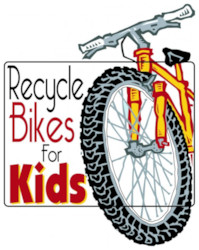 Recycle Bikes for Kids is a community bike shop in Little Rock, Arkansas. Recycle Bikes for Kids collects, repairs and distributes thousands of bicycles.
Recycle Bikes For Kids was started in 2008 to provide bikes to kids who would not otherwise have one. They began by buying used bikes but quickly discovered that people will give you their old bikes when they know you'll repair them and give them to kids. Everyone remembers their first bike and they want to share that experience.
Recycle Bikes For Kids always needs more bikes. Just call and they'll come pick yours up.
Recycle Bikes for Kids
1212 E. 6th. Street
Little Rock, Arkansas 72202
501-952-4581


Map This Location…