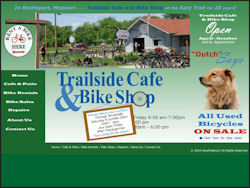 The Trailside Cafe & Bike Shop is located right on the Katy Trail in historic Rocheport, Missouri. The shop offers bicycle rentals, bicycle sales, and services of all types of bikes.
The cafe features a wide selection of sandwiches, wraps, sides, drinks, and treats, as well as a full breakfast menu.
The shop sells new Fuji, Raleigh, Iron Horse, Burley and Sun bikes at prices you will not find elsewhere. They also offer a full inventory of biking shorts, tee shirts, caps and biking accessories.
Trailside Cafe & Bike Shop
700 First St
Rocheport, MO 65279
573-698-2702


Map This Location…