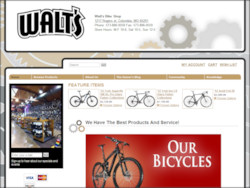 Walt's Bicycle Fitness and Wilderness Co. is mid-Missouri's premier outdoor gear store. They offer a tremendous selection of equipment and clothing for camping and hiking, cycling and many more outdoor activities.
Since 1967 their cycling department has always been the cornerstone of the business. They spend a great deal of time evaluating cycling gear and selecting only the best from their vendors. At the core of their shop philosophy is the commitment to quality, service, and selection. They only stock products that represent solid value and innovation.
Partnering with premier brands such as Trek, Gary Fisher, Klein, Schwinn, Gunnar, Santa Cruz, LeMond, and Electra provides a huge number of bikes and accessories to choose from.
Walt's Bicycle Fitness and Wilderness Co.
1217 Rogers Street
Columbia, MO 65201
573-886-9258


Map This Location…