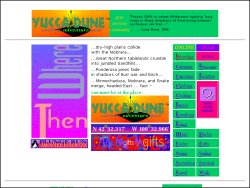 Yucca Dune is an outdoor sporting goods store located in Valentine, Nebraska. The store began as a mountain bike shop, but now supports all kinds of outdoor activities, including camping, canoeing, climbing, kayaking, kiting, sailing, skiing, and much more.
Yucca Dune is located in the Sand Hills region of northwestern Nebraska, near both the Cowboy Trail and the scenic Niobrara River. They are on US Highway 20, which is part of the National Bicycle Greenway, an interconnected network of bikeable roads and paths that criss-crosses America.
In addition to being a full-service bike shop, Yucca Dune also sponsors the Sandhills Bicycle Club and hosts a weekly ride, as well as activities such as trail building, safety rodeos, and trail advocacy projects.
Yucca Dune
148 E. 1st Street
Valentine, NE 69201
402-376-3330
1-888-996-9292 (toll-free)


Map This Location…