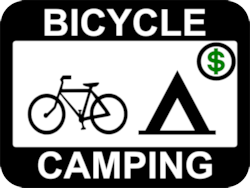 Camp Wood YMCA provides camping opportunities near Elmdale, Kansas. "Since 1916, Camp Wood YMCA has provided high-quality camping programs in a caring family environment tucked within the beautiful Flint Hills of Kansas. Sitting atop the Cottonwood River Valley with the Flint Hills as its backdrop, Camp Wood YMCA features 630 acres of Kansas Tallgrass Prairie and is the only YMCA camp in the United States located in this unique ecosystem."
Though primarily focused on programs for youths, Camp Wood has facilities that are available for everyone, year-round. They have cabins for rent (starting at $16/night), RV sites with utility hookups ($6/person/night with a $20 minimum), and tent camping ($6/person/night with a $10 minimum).
Address: 1101 Camp Wood Rd., Elmdale, Kansas 66850. Contact: ymca@campwood.org, 620-273-8676.