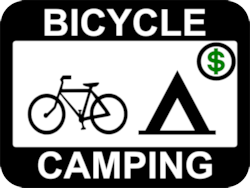 The Graham County Fairgrounds is located in Hill City, Kansas, and "offers RV hook-ups, including electrical and water resources for your RV or camper. There is a bath house available in the warm months for your convenience." The fairgrounds are located on the south side of Hill City, near the Solomon River. Amenities are unknown, though water is available via a spigot.
Cost for camping: $10/night, payment is on the "honor system". A drop box is located at the southwest corner of the facility.
Contact: 785-421-2503.