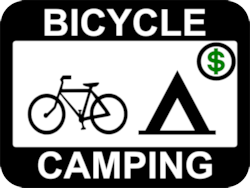 Harvey County operates East Park, located 7 miles east of Newton, Kansas on First Street, and a quarter-mile north on East Lake Road. The park provides a 314-acre lake for fishing, boating, skiing, and camping, as well as a horse trail, a nature trail, enclosed shelters with A/C, and open shelters.
The park provides two types of tent camping:
Rough Camping: Camping which takes place in any area other than those which have electrical services. Rough Camping may not take place within 100 yards of a shelter or permanent structure unless prior arrangements have been made with the Park Ranger. Rough Camping is permitted in designated areas only. Cost is $8 per night.
Electrified Camping: Any camping that takes place within areas which have electrical services. All units within an electrical camping area must pay the electrical rate whether they are hooked up to electricity or not. Cost is $14 per night.
Open shelters may also be used for camping, if reserved for two days, and the appropriate fees ($35/day) paid in addition to the camping fees.
Harvey County also provides tent camping facilities at Camp Hawk and West Park.
Contact: eastpark@harveycounty.com, 316-283-5420. Brochure