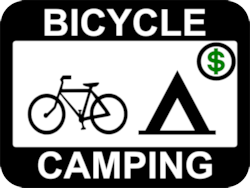 Leavenworth Riverfront Park is located along the Missouri River in Leavenworth, Kansas. The park is located right on the banks of the river, just upstream from the historic Centennial Bridge, a graceful two-span through-arch bridge that connects Kansas and Missouri.
Leavenworth Riverfront Park offers a number of campsites, for either RVs or tent camping, with with or without electricity. The cost is $10 per night for a basic pad. Two tents are allowed per site.
Note: The Leavenworth Riverfront Park was damaged by the 2011 flooding, and is currently closed for repair.
Contact: Riverfront Park Manager, 913-290-0034 or 913-651-2203.