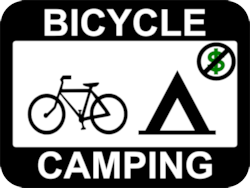 The city of Marysville, Kansas provides free tent camping at Marysville City Park. "The City Park in southern Marysville is on a block that has a sod house, a little red school house, a 1901 Union Pacific Depot, a steam engine, a swimming pool, tennis courts, and a kids park featuring a castle theme. There are two shelter houses with picnic tables."
According to city code: "A designated area has been set aside in the city park to accommodate those individuals who desire to camp overnight in a tent or similar structure. A map, designating the area, will be maintained by the city clerk. No fee will be charged for camping overnight in a tent or similar structure."
Contact: City Clerk, cityclk@bluevalley.net, 785-562-5331.