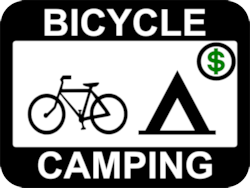 Riverside East offers camping opportunities at John Redmond Reservoir, near Burlington, Kansas.
John Redmond Reservoir is located on the Neosho River, and is managed by the Corps of Engineers. It features 9,400 acres of water and 59 miles of shoreline, and, as part of the Central Flyway, is an important stopover for many species of migrating birds, and there are Bald Eagles that nest in the area. The Flint Hills National Wildlife Refuge is located at the northern end of the lake.
Riverside East offers 53 campsites with utilities, and is located on the east side of the Neosho River, below the dam. Facilities include restrooms and showers. The cost is $15 per night.
In general, campsites can accommodate an RV or a vehicle, but may be used by bicycle tent campers as well. Camping is available only from April 1st through October 31st.
The Corps of Engineers also manages nearby campsites at Damsite Park and Riverside West.
Also be sure to check out the nearby Hickory Creek Trail, which offers about 14 miles of multi-use trail for hikers, horseback riders, and mountain bikers.
Contact: 620-364-8613. Map