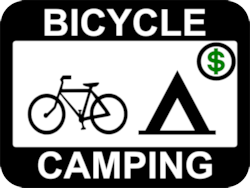 Sycamore Springs Resort is a commercial campground located near Sabetha, Kansas, and offers 60 acres of beautiful camping." It is situated just one mile south of the Nebraska state line, and Sycamore Springs has been a popular site for hundreds of years:
Many Indian Tribes were known to use the mineral water for healing purposes. Early Indians used airtight wigwarms and mineral water poured over hot rocks for sweat baths. By the early 1800's many settlers were moving westward and one of their important water stops was Sycamore Springs. By 1880, the mineral water and beautiful picnic areas were becoming well known and a large 60-room wood framed hotel building was built. Sycamore Springs, by 1886, had become widely known as an outstanding health resort of the Midwest.
Sycamore Springs Resort offers both RV and tent campsites, as well as a variety of shelters, cabins, and a historic hotel built in the early 1920s.
Cost for tent camping: $15/night.
Sycamore Springs Resort is located at 3126 Bittersweet Road, Sabetha, KS 66534. Contact: ssresort@ssresort.com, 620-284-3088.