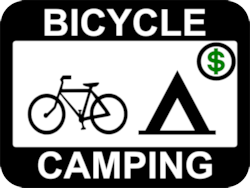 Winfield City Lake is located near Winfield, Kansas, and offers "excellent outdoor recreation for camping, boating, fishing, and swimming in the scenic Flint Hills of South Central Kansas".
Winfield City Lake provides primitive camping sites for $3 per day. Tents may be pitched anywhere for camping. Facilities include shelters, showers, and rest rooms. Build fires only in designated places and grills.
Winfield City Lake also features the Winfield City Lake Trails, with about 4.5 miles of mountain bike and nature trails located on the south shore at the eastern end of the lake.
Contact: Lake Office, 620-221-5635.