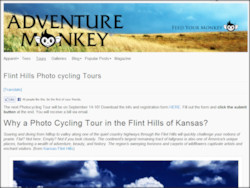 Adventure Monkey Tours are meant for people that want to learn more about digital photography and post-processing of images, want to experience the beauty and remoteness of the Flint Hills of eastern Kansas, and want to experience a challenging cycling trip through the Flint Hills.
This is a photo-cycling tour which means we will be stopping to shoot and discuss the photographic aspects of shooting in the Flint Hills. If you are looking for a racing atmosphere, you won't find it here. The point of this tour is to allow people to fully experience the terrain, beauty, remoteness and peace of the Flint Hills. But remember, it is the Flint Hills and we also want the ride to be challenging for the participants. Be ready to climb hills, fight the wind and have a great time.
The tour begins and ends in Emporia, Kansas, and includes two nights at Camp Wood near Elmdale (cabin and tent options). Total mileage is about 100 miles over three days. The tour is led by Eric Benjamin of Adventure Monkey and Lelan Dains.
For 2013, the Fall Tour is October 18-20.
Event Info:
Date
Ride
10-18-2013

Adventure Monkey Tours

-

Ride your bike through the Flint Hills of eastern Kansas and learn digital photography techniques from an expert photographer. About 100 miles over 3 days.