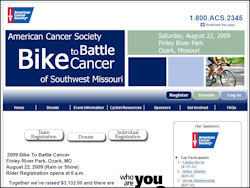 The annual American Cancer Society's Bike to Battle Cancer is an event to bring the Southwest Missouri community together for a non-competitive ride to raise awareness and funds for research, education, advocacy and service efforts. The inspirational theme, "Who are you riding for?", recognizes that almost everyone knows someone that has been touched by cancer. Join us in the fight!
The BBC is unlike any other ride in southern Missouri. It is a one-day event with tons of fun in store for riders of all levels. Registration includes a tech t-shirt, lunch, give aways, and entertainment. All proceeds are supporting the life saving mission of the American Cancer Society.
There are three courses that give you the freedom to ride a short, medium or long distance. All start and end at Finley River Park, in Ozark, MO. Rest stops will be located along the course to provide water, sports drink, snacks, a restroom, and a good time.Volunteer mechanics from local bike shops, SAG wagons, repair & first aid patrols, and safe return transportation is available if needed. Be sure to stay around after the ride for some great entertainment, a fantastic lunch, give-aways and information about the American Cancer Society's mission.
Note: The web site at bbcspringfieldmo.org appears to no longer be in service...
Sorry, but this listing is not currently active;
info shown is the last known data...
Event Info:
Date
Ride
07-31-2010

Bike To Battle Cancer

-

An annual southwestern Missouri ride to raise funds for the American Cancer Society, starting and ending in Ozark, Missouri.