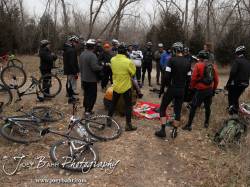 The Blanket Race Series is designed to be a low key mountain bike race series for all ages and levels of riders. It is set up so each rider can have fun and stay in shape in the winter. Races are held on dates scheduled and are not rescheduled due to bad weather. The entry cost for each race is a $10 gift to be placed on the blanket. The racers all start together and go the same distance. After the race each rider will choose a prize from the blanket in the order of their finish.
Blanket Series races are intended to be a fun, easy going, and affordable off-season race series. The purpose of the series is to gather together friends, and others with a two-wheel zeal on some of the prime winter trails in and around Barton County, Kansas.
All races are held on Sunday and all begin at 2:00PM. For questions contact Golden Belt Bicycle at (800) 561-2453.
Events in the 2014-2015 Blanket Race Series include:
November 30, 2014 - Blanket Series: Barton Lake - Great Bend, KS
December 14, 2014 - Blanket Series: Coronado Heights - Lindsborg, KS
December 28, 2014 - Blanket Series: River Trail - Great Bend, KS
January 11, 2015 - Blanket Series: Lake Wilson - Wilson, KS
January 25, 2015 - Blanket Series: The Old Forest - Great Bend, KS
Image courtesy of Joey Bahr Photography.